The commercialization of hip hop and R&B (e.g, Mc Donald's commercials and recently that Burger King commercial) has brought about some shame to its own genres from its tendency to latch onto clichés and reinforce stereotypes, yet it also has brought about numerous benefits primarily with its international appeal. Classic vibes from New York-based hip hop acts like the Wu-Tang Clan, Mobb Deep, and Nas stayed on repeat for Adam Momodou Eriksson Taalis aka "Adam Tensta," all the way in Stockholm, Sweden and they came to be a profound influence for the young MC. Although he was heavily molded by American music, Tensta seems to never forget where he comes from retaining the electro/trance/bass sound very popular in Sweden. This is also evident in his stage name "Tensta", the name of the projects in which he was raised in the outskirts of Stockholm.

Tensta's sound is unique with an amazing production team ready for clubs fused with conscious lyricism touching upon various themes like just plain stunting ("My Cool"), love ("Before U Know It"), racial profiling ("Dopeboy") and politics "("Bangin' on the System"). His rough vocals provide a rugged yet smooth resonance over any track. Over time, he has definitely caught the attention of cats in the industry recently in California touring and working with Mickey Factz, Diz Gibran, Shawn Chrystopher, U-N-I, '87 Stick Up Kids, and several more.

Although we have had the amazing opportunity to interview Wiz Khalifa, Chester French, Mickey Factz, Asher Roth, and several other MCs in the game, we are extremely proud to present our first international interview with an artist that is not a native from the United States. So, take your time and let this post marinate as the Swedish MC took his time on a very thorough interview. Read on about what Adam Tensta has to say about his new album, the Swedish hip hop scene, deconstructing stereotypes, Orisue clothing, etc.

Without further ado, it's time for some Swedish vibes...
iLL Vibes:
Honestly, the first time we heard about you was through the Perez Hilton blog. When was the first time you realized that you had a chance to break into the U.S. Market?
Adam Tensta:
I've always known that I have something that can't be duplicated in the U.S, but it wasn't until it became somewhat of a trend in the States I knew that my genre had mass appeal. (Kid) Cudi's "Day N' Night" was the first example of this. This, in combination with my already attained success in Europe only strengthens my belief that I can make it overseas.
IV:
Definitely, Cudi's track spread so quickly since last summer. I feel like "My Cool" has the same potential with the proper radio play. When can we anticipate your new album in the United States? And do you have other projects on hand?
AT:
As of yet, we don't have a release date for the album. In fact, we're unsure whether to go major or independent with it. Though currently talking to a couple of majors, we haven't decided how to move on with the label situation. Other than that, I'm in the studio knocking out new material, just being progressive and open minded.
IV:
This next album definitely has to be crafted with patience for perfection, until then keep bringing the new music like that Peter Bjorn remix. "Nothing to Worry About" with U-N-I was incredible, you have been doing tours with Mickey Factz, the '87 Stick Up Kids, and Diz Gibran, and soon if not already you will be in the studio with Wale. What other artists can we anticipate you working with?
AT:

First of all, thank you. I also think that remix came out dope.
I'm keeping the doors open for creative alternatives so I wouldn't limit it to just saying rappers. I'm definitely looking forward to gaining experience about how other artists work. Having recorded all my material in a one square-foot closet, it was a great experience meeting up with Wale and his people at the Redbull Studio in L.A earlier this year.



IV:


Your sound definitely has an eclectic appeal so working with other genres would be amazing. With that said, what were you influences growing up in hip-hop because your sound now is heavily based on electronica, yet on some of your prior mixtapes you have a Down South flow like that of Slim Thug and Paul Wall.
AT:

My influences range from mid 90's New York-based hip-hop to Down South acts like Outkast (if I can put them in that category). Also, I'm heavy on Bob Marley, so I guess the list could be viewed as a kaleidoscope of different flavors from all over the place. Right now, I'm inspired by acts like Howard Who, Royksopp, Mats Katt and OK Franklin.


IV:

You can't go wrong with NY and I'm hooked on that Royksopp track "The Girl and the Robot." With your music we particularly enjoy how you tackle and deconstruct certain stereotypes. You also touch upon racial profiling and other political issues on you album, but what other struggles have you experienced as a black Swedish rapper in the industry?
AT:

Well, first it has to be stated that hip-hop traditionally hasn't been as accepted as other genres for example Pop/Rock and Dance. Even though hip-hop has a strong following there aren't that many acts that surface and succeed staying there. A lot of the music that gets air is foreign more so in the hip-hop genre compared to others. So yeah, you are most definitely going to run in to problems being a hip-hop artist in Sweden, mostly cause industry people know that successful acts are few and hard to come by.
To be honest, right now it's a whole other ball game compared to earlier years. After releasing It's A Tensta Thing and it gaining critical acclaim, people of course treat you differently. But I do remember them days when the stage manager shut the stage down cause a hip-hop crowd couldn't behave the way they were supposed to.


It always ended up with everybody being thrown outta the club, some clubs even banned having hip-hop acts perform cause they had earlier experience of how it could end. Stereotypes like this within the industry is something everybody has to get around in some way, I guess the "I know somebody" rule applies here as well. It's SO much easier to get a connection if you know somebody, who knows somebody who is somebody "in the game."
IV:
Wow, banning hip-hop at venues? That's just a crazy man. You also are a product of a mixed background, as well as the product of an immigrant. How has that influenced you as a person and as an artist?
AT:

Well, everything I've seen growing up in the middle of the blend of cultures in Tensta, I try to put in my music. For me it's all about life experiences and that I have plenty of them. It's hard to say exactly how it influenced me without going in to major detail, but living in the same housing project as kids from all over, for example Turkey, Somalia, Iraq, China and Chile kinda colors you, you know what I mean? Not just in a positive way, sometimes these cultures clash and all hell breaks loose, but you learn to co-exist.
IV:

The U.S. is more and more culturally diverse everyday, so I understand where you are coming from. Enlighten us on the hiphop scene in Sweden. As you know, the hip-hop scene in the US is very diverse and varies a great deal on the regional/local level. Describe the hip-hop scene in Sweden. How is it organized, and what are some of the different sub-genres specific to Swedish hip-hop?


AT:
The Swedish hip-hop scene is a bubbling pool of talented rappers and music producers. Though Swedish hip-hop is definitely influenced by the American one (how could it not be) our scene started some 20 years ago and has evolved over the years. Hip-hop has always been built on the concept of what a person has been going through growing up.
I've noticed that people speculate whether we have projects in Europe or not. I think people might think it's been sweet coming up in Sweden, which is not always the case. We do have racism, poverty, immigration, alienation and segregation issues here just like any other place.


In other words, there's plenty to rap about here. In addition to that, I'd like to add that we have our own style and sounds, some of which have been noticed across the world. I don't know if you could divide it into sub-genres more than backpackers/ commercial/ down south/ and electro oriented artist. This is in no way exclusive for Swedish hip-hop though. I've never been the one to label music.


IV:
You touch upon several of those issues in your music and it's good to hear that hip-hop has such a strong resonance in Sweden. From your perspective, how has hip-hop music in Sweden changed over the over the years as a result of the "internet buzz"? Has it stifled the influence of "distinctly Swedish" elements?

AT:
No, not at all. The Internet phenomenon has simply made both the music and the listener more accessible, everywhere you look you can download a free mp3 or pre-listen to your favorite artist's new album directly on you computer, even before it's been released. This climate has created a more up-to-date listener, who knows what's hot before the radio starts playing it. This also means that borders aren't what they used to be. You could have an audience of listeners all across the world without even having a song on the radio. The latter is what's happening to me as we speak. I've had tours on three continents without even releasing my music abroad, this because of people that have heard my music through Myspace or Youtube. You don't need to live in L.A or any other music Mecca in the world to make it happen.

IV:
Nope, no passport necessary for music and you are right we stumbled upon your music through the internet as well. As far as fashion, tell us more about your connection with the clothing line Orisue; what is the story behind its creation?

AT:
I needed a forum to blog on during my visit in L.A, a forum that could reach out to "hip to the move" people. There is something about fashion-aware people that also puts them in the spectra of appreciating new music. These people are the fashion makers and they more often than not, dictate what's hot. Plus, the people at Orisue are a standup bunch of dudes.
IV:
Word, I couldn't have said it better. Shoutout to Orisue!!! (Can iLL Vibes get some gear??) Anyways, how has being a representative of 'A Non Smoking Generation' and an Ambassador for the Swedish chapter of 'Save the Children' shaped the overall progress and development in your music today?

AT:
My music and my dedication in these organizations are two separate things that I try to keep separate as much as I can, but as a spokesperson it kinda enables me to disconnect from the artist role. This part of Adam Tensta has nothing to do with the music. Creating music is just a big abyss, a space that I can't really explain.

IV:
It also makes you a role model for the next generation. Beside the positive messages within your music, do you see yourself transcending your current medium into other forms of art or becoming an actor?


AT:
Right now I can't see myself doing any acting since I'm focusing all my time on writing, and doing this artist thing is a fulltime gig. But if I get some time off and some lessons, I'm not foreign to the idea of getting my Ludacris on.
Hahaaa, no "Crash" sequel? So we have to know: you've won Grammy's in your country, and you're definitely known internationally. What is there left to do? What are your long-term goals, and how do you want to be remembered?
AT:

I haven't even dropped an album abroad yet, so that needs to be achieved first of all. I think my career as Adam Tensta is going to be intense and short lived. At least I hope so, cause that only opens doors for other projects I also want to be a part of. It doesn't mean that my artistry will vanish it only means that I'll find other ways of expressing it.
Secondly, I want to open doors for other artists coming out of Sweden and make progress on an international scale.
Third, I want to take my writing to another level, maybe try it in the form of an author.
In between all of these goals I'll probably stray away for a couple years and do what I find exiting right then and there. I think the goal is to never stop dreaming, no matter how farfetched it seems.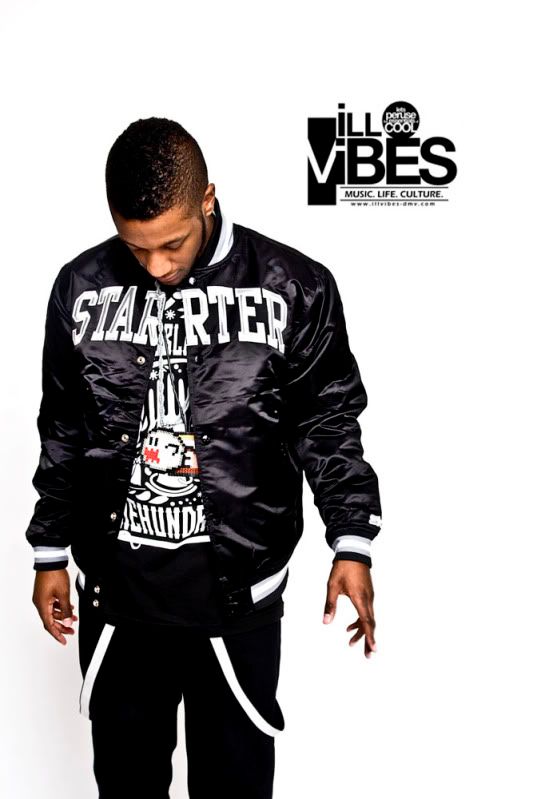 IV:
We will definitely support your movement the whole way. Ill Vibes is a website based in the Washington, DC metropolitan area, and since there is footage of you in the studio with Wale (a Washington, D.C. native), when can we expect you kicking it with iLL Vibes and performing in the area?
AT:
Ain't nothing set yet. But I'm hoping my socks off for it. D.C. is a city I've always wanted to visit. Maybe you could make it happen? 


IV:
No doubt, say the word! We got a lot of venues that would definitely love to hear your music. Not only do you have a unique sound, but even your videos are extremely different - especially with the heightened color scheme and with visuals that correspond perfectly with the bass and thump of your sound. How do you go about creating such unique videos?


AT:

Fortunately, I had the luck to cross paths with director Marcus Lundin, when I handed out copies of my first single "They Wanna Know" on the streets of Stockholm. He called my management a week later and proposed to do the video for it. Since then, he's been feeding us visions of directions to take things in. We discuss ideas back and forth, before anything gets decided. We go through this process every time we shoot a video. It's important to surround yourself with creative people in ALL layers of the entertainment industry. People that know how to enhance a vision from different perspectives and can help bring it to life. Every song and every feeling that particular song plays on, is something that can be enhanced by a visual. A least that was our goal.
IV:

You met the goal too. So, we hear that you spazz out at your shows, and in fact, you shared a story how you went so hard that you almost fainted at a show. Are you crazy?! Nah, in all seriousness, we love the display of passion at live shows. What motivates you to push so hard even during live shows?
AT:
The live shows are the reason to why I grind it out in the studio. The live shows are the reason why I do this. I always carry my back pack containing my MacBook with me, in case I have to write something down when I'm on the subway. Everything I do as an artist is for the stage and reveals it self on stage. That's where I feed off the energy people give me. There is no greater feeling than standing in front of 5,000 people, giving my all and gaining their acceptance for what I crafted on for so long. When I get in that zone leading up to a show, all I think about is the show. Everything after and before is just part of that abyss. It's very hard to explain but during the live shows I feel more alive than at any other time.


IV:

Lighting Round Questions - "They Wanna Know":

1. How many languages do you speak? Three

2. Favorite all-time Swedish/American artist? National Teatern/ Outkast


3. Favorite all-time Swedish/American food? Pancakes / Corn bread

4. Kim Kardashian or Halle Berry? Halle Berry all day!

5. Top 5 songs - from any genre?

Little Dragon- Places To Belong

Fever Ray - When I Grow Up

Rob Roy - Carmencita

Howard Who - Stockholmsnatt

Big Sean - Who Knows ft.Mike Posner* (iLL Vibes Favorite)

IV:
We here at iLLVibes pride ourselves on getting to know artists - beyond their music. We appreciate the time you took out of your busy schedule to let us get a glimpse of who you are and wish you nothing but the best! If you ever need anything else just holla at us and we got you!
Shoutout to My Best Friend is My Grind

Check out these recent drops from Adam Tensta:
Adam Tensta - Welcome to Heartbreak (remix)

Adam Tensta - Huvudet I Sanden (Personal Favorite!!)

Adam Tensta - Into Space (sampling Justice)
Adam Tensta ft. Lykke Li - Little Bit of Room

Adam Tensta ft. Dida - Electric Feel

Adam Tensta - They Wanna Know