Rarely do you come across an artist whose passion for music and flowing surpasses the desire and need to be known, whose drive and determination to become great allows him (or her) to take all kinds of criticism, and whose personality creates an immediate impression on you. Even more rare is the artist who patiently studies the game and its artists to find those hidden gems in certain lyrics, as did the young Mos Def and Pharrell when traveling the country to follow A Tribe Called Quest. This is, in my opinion, what's missing in the game – this unbridled love for the art to perfect one's craft, by any means necessary.
Hailing from the Virginia Beach area (the home of such musical talents as Teddy Riley, Missy Elliot, Timbaland, and the Neptunes/N*E*R*D), Dre-Ski is no stranger to music – and not only because of the area he grew up in. We here at iLLVibes have been humbled by this artist's drive and passion and have been lucky to see his skills develop and reach an incredible stage of maturation at such an early age, and we no doubt cannot wait to see how he continues to improve. And don't get it twisted, not only does he write carefully and endlessly in his notepad as if a modern day Wordsworth, but he's an incredible freestylist, with an uncanny ability to spit off the top of the dome on any topic à la throwback Eminem. If you doubt him, ask him why he's been recently crowned the Freestyle King at Virginia Tech, having won a recent battle at his college.
With several mixtapes released already, Dre-Ski intends to drop another one this upcoming summer, and based on his past songs, this soon-to-be-dropped mixtape should bring more heat. His first mixtape - "Follow Me" – with beats from your favorite artists, in addition to several original tracks, outlined his journey through several stages in his life, whether it's about his experience back at home, his brother's incarceration, or his opinions about college women. His swagger is quite pronounced on such songs as "Spit My Game" ("I treat a track like a sack of weed, I'm always sparking it"), in which he spits effortlessly over Big's "Spit Yo Game" and emphasizes the cadence of the melody; "Ride Wit a G" ("I know you feel my presence when I breathe on a track"); and "Step My Game Up" ("Kenan and Kel flow, you can say I'm All That") [my favorite line, by the way].
In "Cannon Flow" Dre-Ski builds upon a message for all his haters until finally he exclaims, "I get full from your beef like it's lunchtime," resulting in an exposition as to why he's the new artist to recognize. He unleashes into an exposé of college women on "Get Far (College Edition)," as if this were Ludacris's version of "Area Codes" for universities/colleges across the country ("Wouldn't get far messing with frat dudes / I wrote this song for you"). Indeed, throughout this mixtape, it's not uncommon for Dre-Ski to delve into an inimitable array of witticism and wordplay often lacking in the hip hop game: "I'm just writing my lifestyle / 'cause everybody know how I feel and understand that life's wow / God-made, I guess I'm just life's child / 'cause if he didn't want me on this Earth, he would've came in a LifeStyle." He further exposes himself in the same song, "Dear Life", when he elaborates on the harsh realities of life and on human nature: : "This life got so many hardships / Nobody warned me about the girls and the hard shit". All of this results in a vast composition of varied elements, a storybook of sorts detailing the life and times of Mondre Barnes – an arrangement so diverse that it's guaranteed to appeal to all, no matter the background and experience.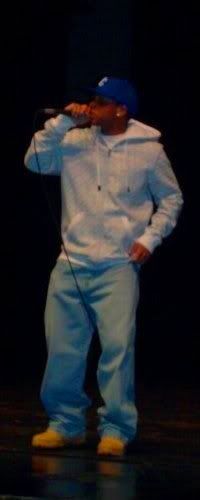 As of right now, Dre-Ski, while also preparing his next mixtape, is also in label talks and hopefully will make his official debut anytime soon. But even without this legal wrangling and years of waiting, Dre-Ski is an artist to support whose movement will hit you eventually! For more information, check out his
myspace
and hit him up! He promises to update his page very soon. Check out his songs below, and let us know what you think! (Just to let you know, we've added a surprise: his version of CRS' "Us Placers.")
If we had to choose a particular favorite, Dre-Ski's version of "Us Placers" is definitely at the top of the list. In this song, he entangles the listener in an existential excursion, with Verse 1 detailing his perfect girl ("She not dumb and she not afraid to know more / Put her in a coupe, take trips, I'm a chauffer"); Verse 2, my personal favorite, juxtaposing two conflicting elements – that of failure and success – and describing how the former pushes Dre-Ski to the latter ("The more I try is when I try to take heed / And when I'm down is when I succeed"); and Verse 3 outlining his fashion sense and the necessities of life to reach those desires ("To make end's meet I gotta bust more … Locked in a ward, no Montgomery / I'm locked in a glass, it's the world I see"). All in all, the wordplay and flow are incredible, especially more so since he did this song all in one take!
Download:
Dre-Ski - Us Placers
(Updated Link 06/09)