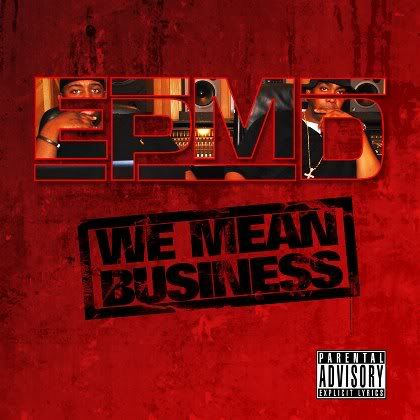 If you're a true fan of hip hop, you know who EPMD is. Even if you don't, your favorite artist has most likely sampled their music (e.g., Nas's Nastradamus and Jay-Z's "Ain't No *****") or has been influenced by Erick Sermon or Parrish Smith. In any case, to put it shortly, these cats have been around since mid-1980s and are still going strong, much like Q-Tip and KRS-One. They have long been regarded as pioneers in hip hop, especially with the use of sampling of funk and rock elements in their music. From "Strictly Business" and "Unfinished Business" to their new album dropping on December 9th, "We Mean Business", these timeless artists have been dropping classics day in and day out and appear not to have any limits. Further, they are in large part responsible for bringing out artists like Redman, Keith Murray, and Das EFX.

One of my favorite joints, "You Gots to Chill"
As mentioned, these fellas are putting out "We Mean Business" (drops Dec. 9th), and along with this project, they have teamed up several artists who have been inspired by EPMD and who have painted on various canvasses, with proceeds from this project to support the Brooklyn New York-based charity Groundswell Community Mural Project. For more information on this project, check the press release below:
Los Angeles, CA. (November, 2008) — Los Angeles based A.K.L.A Productions announced today the unveiling of "The EPMD Art Project", a collection of premiere international artists creating works inspired by EPMD. Works from each artist will be presented on canvases and prints and auctioned off at a record release event and a listening party. In Los Angeles, EPMD will team with Zune at their Zune L.A. space, offering guests the first opportunity to hear the new album and bid on the exclusive artwork. A main event will follow in New York at Santos Party House, which will include performances by EPMD and friends, as well as the next opportunity to bid on the artwork.

Proceeds earned from each event will go to benefit Brooklyn New York-based charity Groundswell Community Mural Project. This is a unique opportunity for renowned urban artists to pay homage to, and collaborate with, one of the most legendary Hip Hop Recording groups of all time. Originally created by Eric Haze for Sleeping Bag Records, EPMD's logo is one of the most recognized in the world of hip hop. Haze's original Logo for EPMD will remain the true symbol for the group. These pieces are one-off interpretations, specifically created for this project.

"This is a celebration of hard work and an amazing new record. We feel blessed to have the support of all this talent and are happy to be able to use our good fortune to give back to the Groundswell organization and the kids they support," states Parish Smith of EPMD. "The feedback has been incredible, this record reflects how far we have and come. To be able to collaborate with our fans to give back to a charity makes it even more special," says Erick Sermon. EPMD's new album "We Mean Business" will be in stores on December 9th.

ABOUT EPMD
Parish Smith and Erick Sermon are EPMD, the first rap group whose members excelled as both rappers and producers during their long lasting career. They one of the most sampled rap acts of all times. They introduced funk-styled production to rap. They are among the best talent scouts in the business, having introduced the likes of Redman, Keith Murray and Das EFX. They broke up and reunited. EPMD are undisputed legends in the rap game.


ABOUT GROUNDSWELL MURAL PROJECTS
Groundswell Community Mural Project is a Brooklyn-based non-profit organization founded in 1996. Groundswell brings together professional artists, grassroots organizations and communities to create high quality murals in under-represented neighborhoods. The organization strives to inspire youth, communities and artists to take active ownership of their future and equip them with the tools necessary for social change. Work is done citywide with a special focus on Brooklyn. Groundswell teaches communities to use murals as a means to increase civic participation and encourages individuals to speak for themselves in a large-scale venue.

A.K.L.A Productions
A.K.L.A is a Los Angeles based production company founded in 2007. The company has an extensive background in the music and art scenes, and produces media events in New York and LA.