Gowhere Hip Hop
is hosting an incredible contest for any MC who'd like to win two (2) tickets to the upcoming Rock the Bells tour (at any location!) and a 8 mb SanDisk memory card. Personally, I'd want the memory card (just kidding!). Even if those items don't appeal to you, this is a way for your musical ability to get heard and for you take pride in a piece of work, especially if it wins in the end! Simply check out the rules below and get started! What's incredible is that there is one control beat (produced by Mr. Music) so as to make it fair for all contestants. Download that beat, work hard on your lyrics, get those creative juices flowing, and submit as soon as possible - the deadline is this Sunday. Best of luck!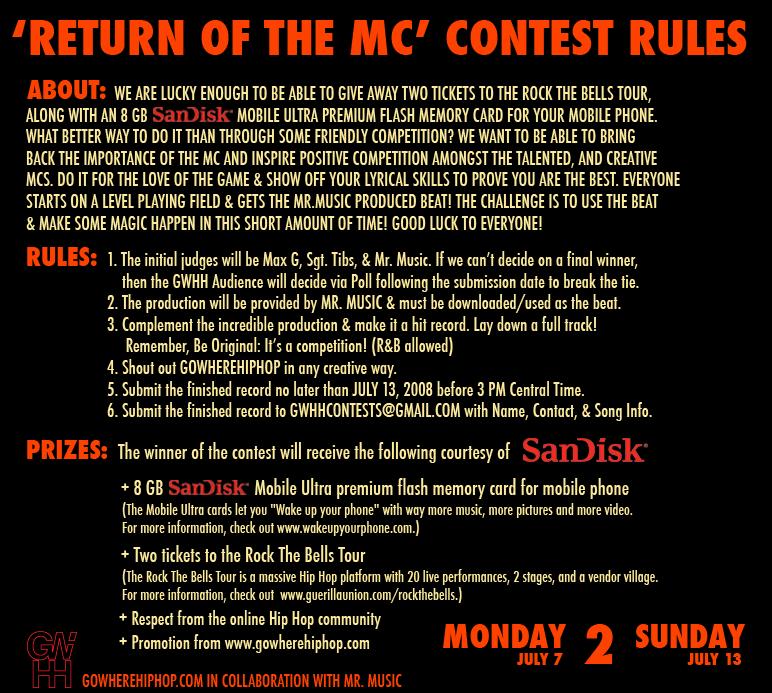 Rock the Bells Tour info:
For more information about the contest, go to the
Gowhere post
.
Download the beat here:
http://www.zshare.net/audio/148962151c286378/
DEADLINE: THIS SUNDAY!!!!