Not too long ago, we brought you the exclusive look at producer Que R!co's remix of Lil Wayne's Lollipop, as well as his video remix. If you haven't heard about this super-producer, he's the very reason why we have the mixtape, "Hispanic Gangster", a remixed version of Jay-Z's "American Gangster," with music from salsa legend Willie Colon. Not only that, his discography extends beyond this mixtape to other remixes of your favorite hits by your favorite artists, and he hopes to continue his passion of remixing songs and to work with upcoming artists in their pursuit of and passion for music. In spite of his busy schedule, he took time to sit down with us (vicariously through email) and answer a few questions, and for that we're very much appreciative.

1. First of all, introduce yourself and let others know who Que R!co is.

Well, thanks for the interview. I'm really glad to have the support from yall. Anyways, i'm Que Rico. I'm a 19 year old music producer/emcee from Oak Ridge, TN. I've been making music and performing at shows for about 4 years now.
2. What motivated or enticed you to start producing?
I think I've always had a strong love and passion for music ever since I was a little kid. However, what made me interested in actually creating music was the "In Search Of..." album from N.E.R.D. That CD was and still is very inspirational for me. It made me want to go out there and make some noise of my own. So in 2004, I went out and got this GarageBand software with a MIDI keyboard. Ever since then music has been a way for me to express myself and escape from my problems.
3. As far as production goes, what is more important: sampling or creating an entirely new beat?
Personally, I believe both are important. Sampling is hip-hop and it's part of the history. Hip-Hop started with sampling, but I think it's impressive to hear good sample-free music as well. I love digging for records, chopping it up, and creating something new. But I also love making sample-free beats from scratch because it allows me to really experiment a lot more.
4. Who in the game (past or present) has influenced you the most?
As far as producers, I'm a big fan of The Neptunes, J Dilla (R.I.P.), DJ Premier, Timbaland, Pete Rock, Just Blaze, Kanye West, and Dr. Dre. Anyone who produces dope stuff. I also get inspired from other genres. I really like stuff from Jon Brion, Quincy Jones, Ennio Morricone, and a whole lot more. As an artist, I'm really inspired from a lot of genres. I'm really influenced by N.E.R.D., K-Os, The Roots, Fiona Apple, Common, Kanye West, A Tribe Called Quest, Coldplay, Kenna, Marvin Gaye, and more.
5. When we think of certain producers, we know they have their unique sound. You can easily tell what is a Neptunes beat, or a Timbaland beat, or a Dr. Dre beat, etc. Is there such thing as a Que R!co beat? What makes you unique in the game?
I'm not sure if I do have a "sound". I don't think it's really distinctive, but I think the listeners could get a sense of a certain feel from me. The thing is that I hate to just make the same track over and over again. So I just try to make something dope and different everytime I step up. I think that's what matters. The thing that makes me unique is that there's so much feeling and emotion in my music. It's going to get some reaction from the listener. Whether they wanna relax, throw some chairs around, or just dance to it.
6. For someone who wants to get involved with producing, what are the key steps to get to that goal? What makes for a great producer?
I think the first piece of advice I would give is to just play around and have fun. There's so many things in this industry that will try to bring you down. You have to find out what made you fall in love with music in the first place. Also, I would say that buying some software would be a smart move. It was good for me. I think what makes a producer great is their ear and their way to make the listener move, or feel. The Neptunes had that affect over me when I first discovered them in 2003-04. That's why I picked up a keyboard in the first place. Their beats alone were just so hypnotizing and I could just escape from reality when listening.
7. The iLLVibes crew really enjoyed your remake of Jay-Z's American Gangster album. What was it about that album that really moved you to remix it? And can we expect other albums to be remixed in their entirety, or are you more prone to remix singles instead?
Well, i'm really glad that y'all enjoyed it. "Hispanic Gangster" is my favorite project so far and such a personal one, too. I really took my Hispanic heritage and brought it to the thing I love to do. So I spent a while doing my research and listening to Willie Colon & Hector Lavoe. When the American Gangster acapellas dropped, it seemed perfect to use these Willie Colon-produced songs. Most of the Willie Colon album covers in the 70's were always having some sort of "gangster" theme to it. So that's what made me think of this mash-up. I loved the original "American Gangster", but executing this idea would make it completely different. I did "Hispanic Gangster" in a total of 9 days. This was back during the Christmas break in 2007.

But I'm really inspired now from Willie Colon and his production. If you listen to his music from the 70's then you'll be surprised. It's not just salsa, but it's also soulful & edgy. Everything Willie Colon and Hector Lavoe did was amazing to me. I hope that someday I will be able to make records like Willie Colon. Working with a big band or an orchestra or whatever.



Hector Lavoe - El Cantante




I do remix a lot of singles, but I am working on the next "Que R!CO Sessions" re-mixtape. It's Joe Budden's "Mood Muzik 3: The Album". So far, it sounds amazing and I think people are going to be impressed. It should be out sometime this summer. Be on the lookout for that. Also, my next remix compilation ("Que R!CO Remixes Vol. 3") is coming this winter. It's going to be more R&B & pop on this one. My remix of Lil Wayne's "Lollipop", which is out now, is going to be on that.
8. If you can work with one producer or artist, who would it be and why?
I would like to work with any artist out there who makes good material & is true to their craft. Anyone who is willing to do something different and unique. A producer I would like to work with would be Timbaland. He is just beyond everyone and anyone in the music industry. I would just try to learn how he creates his drums and his techniques. He's like one of my favorite top 5 producers.
9. What can we expect from you in the future? Do you have any albums in mind that you'd like to remix? Any hits that you're currently working on? Any upcoming artists you're currently working with?
Currently, I'm working on a lot of projects right now for 2008. I'm about to put out a free EP this month called "I Love New York: The Remix EP". It's just some remixes that feature New York emcees. Then i got two crazy projects for this summer: The Graduate EP and Joe Budden - Mood Muzik 3 (Que R!CO Sessions). The Graduate EP is my own project. It's me rapping & singing over my own beats. It's going to be something really crazy and unique. Also, I'm working on an album with a local emcee from Knoxville, TN. His name is X-Cal of the group A51 (www.myspace.com/a51xcal). It's going to be entirely produced by me with him rapping. And I'm doing some beats here and there for other fellow artists around East Tennessee, too.

Other than that, I'm just trying to get my name out there & network with people in the music industry. Recently, I just registered on PMPworldwide (www.pmpworldwide.com/Que-Rico) and I'm trying to grind on there, too. I have big dreams and I'm very passionate about this. I got a feeling one day it's going to happen for me. Right now I'm just having fun, working hard, and waiting patiently for my time to get here.
To get his mixtapes, click on the pictures: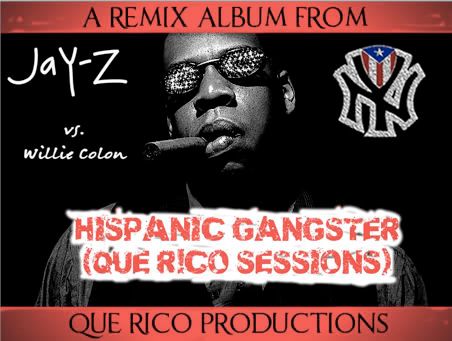 For more information about Que R!co, go to his
myspace page
.
We here at iLLVibes would like to thank Que R!co for taking the time out to answer a few questions and allowing us to learn a bit about him. Much success to ya, Que R!co!